Samsung Ice Maker Iced Up
We are Samsung experts.  Samsung refrigerators are highly technical, therefore, you need a pro to diagnosis and repair your refrigerator.  If you are local to San Diego, watch our repair videos and gain confidence in our ability to take care of your service needs.
In this video we take you through a step by step diagnosis and repair of a Samsung refrigerator repair.  This tri-o model is a very poplar Samsung model.  Many people are finding the same issue with the ice maker jamming or not dispensing ice.  Owners have also been finding the ice melting in the ice bin.  When this happens they find water leaking out of the dispenser door front through the door chute.  The ice tends to clump up in the ice bin and will not dispense.  Ice productions slows down and many times will stop.  WARNING: This is not a do it yourself video. Incorrect removal and service of this ice maker could damage your entire cooling system.  This video is to demonstrate our technical skill and proficiency in this Samsung appliance repair.
No matter what may be the issue with your refrigerator, we can help.   You can contact us via email or text or by booking and appointment online for your repair.
Samsung Refrigerator Repair San Diego
People have search for: samsung refrigerator repair san diego, refrigerator repair, samsung refrigerator repair, samsung refrigerator service, refrigerator repair samsung, samsung ice maker repair,  san diego samsung
Samsung Refrigerator Not Cooling
How about the Samsung side by side with dual evaporators.  These are very popular.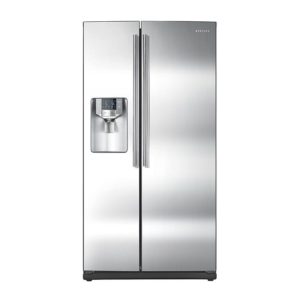 Samsung Refrigerator Not Cooling is a common problem for this model.  We find the freezer section cools fine, but the fresh food section is too warm.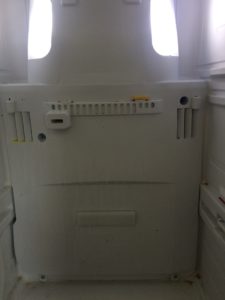 Behind the crisper bins you will find the fresh food evaporator cover.  Inside of this cover you will find a fan motor, sensor and defrost system parts.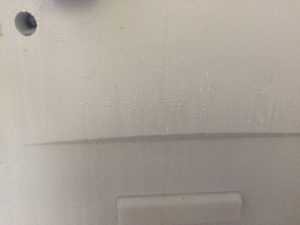 Please notice the sweat on the evaporator cover. This is caused by the fan motor not running or being able to turn.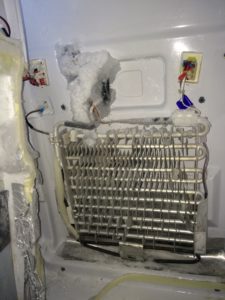 As the cover is removed you will notice a heavy amount of ice on top of the evaporator and at the drain trough.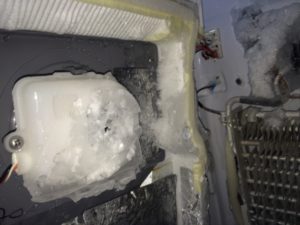 Upon farther review we notice the fan motor is completely cover in ice.  We will be replacing the refrigerator evaporator cover.
Final testing of new fan motor.  Samsung Refrigerator Not Cooling / problem solved!
The sensor on the bottom of these unit goes bad. The only way to fix it is to replace the whole ice maker.